Welcome to Starcomsw:
SR-X1005PLUS
Version:1.83
modified:
1.modify powervu to support more keys
Update tips:
Plz update the sw with encrypt, if it informs fail please kindly update the sw without encrypt .And it limits updating
previous software.
SR-X1005PLUS
22/7/2015
V 1.75
Fixed youtube
PLEASE DON'T DOWNLOAD THIS S/W FOR OLD 1005
SR-X1005HD
17/1/2013
V1.62 server fix
V1.30 is the fast and stable
V1.52 for 3G (no syria)
Please unrar the S/W place the ( files )
folder in the root directory of your flash
reboot the unit
-----------------------------------------
SR-X1212HD
New Version 15-10-2012 Fix JSC card Add Redcam
To Activate Super Settings:
Go to Settinga, stop on an line inside Settings
Press RED button + 1510
Then you have now super settings
SR-X9797HD
12-11-2012
SR-X2525HD
1-9-2013
SR-X1515HD
1-9-2013
SR-X1010 HD
7-2-2012
New Convert 1010HD to X80 Menu Blue BY USB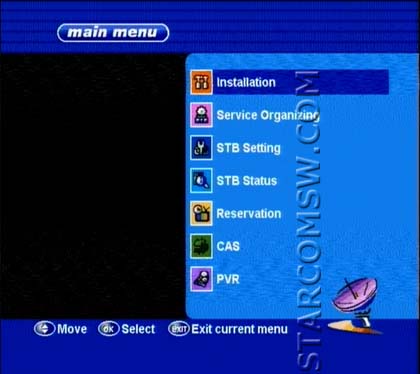 Will be released later fix some bugs
1. Convert 1010HD to X80 (StarUI) Blue By Nadim
S/W is fast, Has 10 Fav and better booting Time
2.Convert 1010HD to Iphone UI by Nadim
S/W now is faster, better booting, Better Menu colors on HD
Later you can update any patch reasled by us.
Enjoy
-----------------------------------------
SR-X2020 HD
12/11/2011
If you want to activate Twin
F1+111
V.149
--------------------------------------
SR-X1000HD
12-11-2011
Download New 1.68 for server fix
Version 1.62
Please don't forget to reset factory then go to sever menu and F1 to delete then reload the server
For Customers ref. below is the following:
-------------------------------------------------
SR-X1001HD VFD
12-11-2011
Download New 1.68 for server fix
(can write the channel's name on front panel )
Please don't forget to reset factory then go to sever menu and F1 to delete then reload the server